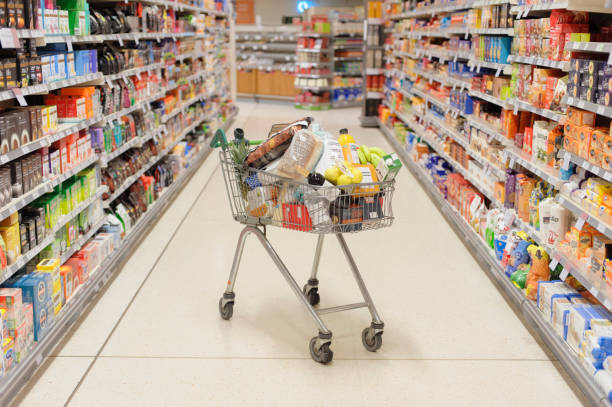 FMCG (Fast-moving consumer goods) is one of the largest sectors in the South African economy. FMCG can be defined as those everyday products which are comparatively low cost and are sold very quickly.
FMCG companies generally deal with items that are stocked by the masses and have a consistent turnover rate due to the regular demand for these particular products or services.
Some examples of FMCGs include milk, bread, and soft drinks. Because the products of FMCG companies have short life cycles, old stocks need to be sold off quickly to make way for new ones.
The list shows the top 12 best-performing FMCG companies in South Africa, where the factors that determine their performance include competitive environment, innovative products, customer loyalty, and analysis of company financial reports.
List of The Best FMCG Companies in South Africa
1. Clover Industries Limited
Clover Industries Limited is a South Africa-based company engaged in the manufacture and distribution of a wide range of fast-moving consumer goods (FMCG) in the dairy, beverages, and branded products sectors.
The Company's segments include the dairy and beverages sector. The dairy and beverages sector produces milk powders, fruit juice concentrates, fruit juices, cultured milk (yogurt) products, ice cream, and frozen confectionery items.
The branded products sector concentrates on personal care products. FMCG also includes condiments, cleaning products for household and commercial use, paper products, and various foodstuffs.
2. Unilever South Africa Ltd
Unilever South Africa Ltd is a subsidiary of the international Unilever Group. They are the manufacturers and marketers of more than 300 fast-moving consumer goods in South Africa under some of the world's most recognized brand names.
Main products include personal care and beauty brands, home care products, and food products.
Their success is built on continuous investment in new technology and innovation, driven by a clear purpose: to add excitement and quality to people's lives, to bring out the best in every person, and to inspire them to have more positive experiences with brands they know and trust.
Unilever aims for its brands to be as accessible as possible and available to everyone throughout their lives­ – from cleaning products when they are babies, through care for their skin as young adults, to nutrition products as parents, washing products as parents who wish to save time and energy when caring for the family.
3. Nestlé South Africa Ltd
Nestlé is a global food and beverage company, with a presence in 189 countries and territories. Its portfolio includes baby nutrition, bottled water, coffee and tea, confectionery, dairy products, ice cream, snacks, and spreads. Nestlé South Africa Ltd (NSAL), is part of the global Nestlé Group.
Nestlé South Africa Ltd produces a wide range of well-known infant and nutritional products. These include Nestlé infant formula products (infant milk powder, follow-up formula, and toddler milk); Nescafé coffee; Milo powdered chocolate drink, and Ready Brek hot cereal.
Nestlé's other products in South Africa include Nesquikos, Koko Krunch chocolates, Maggi seasonings and sauces, Purina dog food, and Friskies cat food.
4. Peninsula Beverage Company
Peninsula Beverage Company is a leading and trusted wholesaler of soft drinks, fruit juice, bottled water, and cordials in Southern Africa.
They have a presence on all major platforms and have assumed market leadership positions in South Africa.
Peninsula Beverage Company is the leading distributor of Coca-Cola products in Southern Africa and continues to deliver outstanding products from the Coca-Cola System in a competitively priced manner.
Over the years Peninsula Beverage has steadily grown and expanded to become one of South Africa's leading producers and distributors of bottled water, soft drinks, and juice.
By focusing on sustainable business practices, they have been able to maintain their position as a top-ranked producer with an international profile.
The company continually strives to improve all aspects of the quality of its beverages and is constantly raising the standards of its service.
5. Tiger Brands Limited
A South African icon, Tiger is a major player in retail, food, beverage, and commercial distribution with a significant interest in sugar.
The company has a market-leading position in more than fifty product categories, including some very strong brands.
Their FMCG products include drinks, food, fresh produce, and household products.
They have taken the number one position in a market growing at more than 5%, driven by changing consumer lifestyles, food innovations, and product developments.
With a strong portfolio of food and beverage brands, Tiger Brands Limited is transforming the South African consumer market.
With approximately 1200 employees and revenue exceeding R10 Billion p.a., they have a proven platform that enables the company to drive change, innovate, and lead its industries of interest in South Africa.
6. Coca-Cola Beverage South Africa Tannery
Coca-Cola Beverage South Africa is the South African anchor bottler for the Coca-Cola Company and has been bottling and distributing Coca-Cola products in this country for years.
They are South Africa's largest producer of soft drinks and one of the single largest consumers of plastic packaging in the country.
The company's mission is to refresh South Africa with its brands and in turn, bring smiles to the faces of its customers.
The company produces a spectrum of non-alcoholic ready-to-drink beverages including carbonated, juice-based, sports, and energy drinks as well as waters across categories from economy to mid to premium.
7. Premier FMCG – Pretoria Wheat Mill
Premier FMCG is a leading manufacturer, distributor, and exporter of a wide range of branded consumer products.
They are a trusted household brand with a reputation for excellent quality, product innovation, and market leadership.
They offer delicious products for every occasion – from breakfast to dinner and everything in between – so that consumers can always enjoy their favourite foods at home.
Their manufacturing network comprises eight manufacturing sites and five distribution centres across South Africa, which are supported by a well-established national sales team.
Large parts of their product portfolio are locally produced from locally sourced ingredients and we have been recognized as one of the top 10 A-rated JSE companies in terms of Broad-Based Black Economic Empowerment.
In addition to its extensive range of household names that are sold into both retail and foodservice channels – such as Spar, Woolworths, and Shoprite – on an exclusive basis, Premier FMCG also has an exciting portfolio of international brands that it distributes into South Africa on behalf of some of the world.
8. Alpen Food Company South Africa (Pty) Ltd
Alpen Food Company South Africa is the leading supplier of quality baked goods to the retail, wholesale, and food service industries.
Alpen Food Company was established with the vision of becoming a leading supplier of top-quality baked goods to the retail, wholesale, and food service industries in South Africa.
Through an effective blend of modern technology and traditional baking skills, a full range of products has been developed for each industry sector.
The company offers a comprehensive range of high-quality products daily throughout Southern Africa.
Alpen Food Company South Africa has grown from a small operation to one of the larger players within the confectionery market.
The company distributes its products across the length and breadth of South Africa, with distribution channels including retail outlets and grocery stores, convenience stores, wholesalers, schools, canteens, and vending machines.
The company strives to offer new and exciting products to a wide range of customers.
9. Liberty Food Pty Ltd
Liberty Food Pty Ltd is the largest FMCG company in South Africa. This company is known for its delicious foods such as pasta and ready meals.
But this is not all that Liberty Foods has to offer. They also manufacture and distribute several other products from frozen foods, baked goods, processed fruits, nuts, and eggs to canned goods, soups, and condiments.
One of the great things about Liberty Foods is its commitment to providing customers with high-quality products at affordable prices.
They are consistently among the top producers of FMCG in South Africa because they have been able to maintain a good standard of manufacturing processes over time while keeping costs low due to their efficient supply chain management system.
10. Essco Foods
Essco Foods Holdings Limited is South Africa's largest food producer and distributor.
It markets and distributes products under several brands including Good Hope, Ocean Spray, and Signature Range.
The company operates in four segments: Food Manufacturing; Distribution; Agribusiness and Other.
The Food Manufacturing segment includes the manufacture of ready-to-eat (RTE) fruit, vegetables, seafood, and general food products to be sold at retail outlets, wholesale outlets such as supermarkets, and other distributors.
The Distribution segment comprises the distribution of products manufactured by the company or purchased from third-party suppliers through various channels to end customers.
The Agribusiness segment includes the production of almond products in South Africa.
This segment sells its almond products direct to selected customers.
11. Clorox Africa (Pty) Ltd
Clorox Africa is a subsidiary of The Clorox Company, a leading multinational manufacturer and distributor of consumer products with operations in more than 65 countries.
Clorox has been helping families live healthier lives for over 100 years and is a recognized leader in consumer brands including liquid bleach, laundry detergents, household cleaning products, and natural foods.
With a heritage of innovation, trust, and performance, we are dedicated to helping consumers live better through chemistry.
To drive growth in Africa, Clorox took a strategic approach to segmentation and identified consumers who would be receptive to its message.
The company then created tailored marketing campaigns for these segments to deliver a consistent brand experience.
It also developed a strong social media presence and built a culturally relevant communication platform.
12. Mondelez South Africa
Mondelez South Africa is a subsidiary of Mondelez International, Inc, one of the world's leading snack companies, operating as a multi-national manufacturer and marketer of biscuits, chocolate, gum, and candy.
The company was founded in 2012 after Kraft Foods split into two companies, with Mondelez being spun off as an independent company.
Mondelez South Africa's mission is to be a category leader and make everyday moments more enjoyable with its brands.
They achieve this by striving to be the best company in their category, by creating superior taste and experience, delivering value, controlling costs, and generating profitable growth.