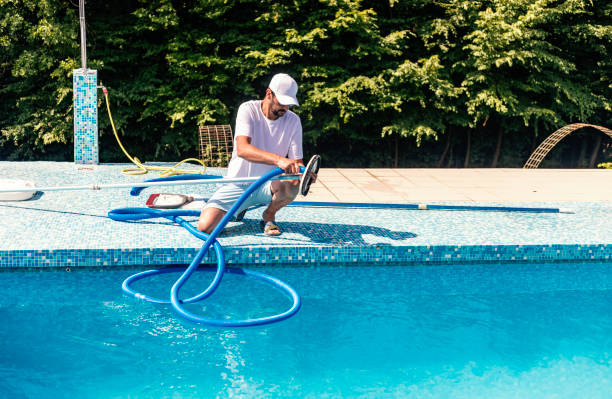 If you're a pool owner in South Africa, you know how important it is to keep your pool clean and sparkling. But with so many pool cleaners on the market, it can be hard to figure out which one is right for you.
That's where we come in! We've scoured the market and tested the top pool cleaners available in South Africa, so you don't have to.
In this article, we'll give you the lowdown on the best pool cleaners out there, whether you're looking for an automatic or manual cleaner, a robotic cleaner, or a suction cleaner.
We'll break down the pros and cons of each one, so you can make an informed decision and choose the perfect cleaner for your pool.
Our experts have looked at a range of factors, from effectiveness to ease of use, to help you find the best cleaner for your needs. We'll also provide you with tips on how to keep your pool in top shape, so you can enjoy a refreshing swim whenever you like.
So sit back, relax, and let us guide you through the best pool cleaners in South Africa.
The Best Pool Cleaners in South Africa
1. Zodiac Baracuda G3 W03000 Advanced Suction Side Automatic Pool Cleaner
The Zodiac Baracuda G3 W03000 is one of the top pool cleaners in South Africa. This advanced suction side automatic pool cleaner can handle in-ground pools, keeping them clean and free from debris.
Its 36-fin disc design ensures smooth movement across various pool surfaces like tile, vinyl, gunite, and fiberglass. The G3 easily navigates tight spaces with its wheel which helps it steer clear of obstacles such as drains or lights.
Compatible with single, two-speed, or variable-speed pumps, this pool cleaner works well even with low-speed pumps due to its FlowKeeper valve for water flow control.
With its easy setup and efficient cleaning capability, the Zodiac Baracuda G3 W03000 makes a fantastic choice for busy pool owners in South Africa who want a clean pool without spending too much on cleaning services.
2. Pentair Kreepy Krauly Suction-Side Inground Pool Cleaner
The Pentair Kreepy Krauly is a favorite suction-side inground pool cleaner in South Africa. Known for its powerful suction, this cleaner can remove algae, grime, and debris while still being gentle on PVC pools.
The Kreepy Krauly has a unique soft pleated skirt on its head that doesn't irritate the vinyl liner of your swimming pool, making it safe to use on delicate surfaces. With no wheels, gears, or diaphragms needed, this simple design minimizes maintenance concerns.
The cleaner's diving float system guides it along the length of your PVC pool and up the walls to the waterline for thorough cleaning.
Easy to connect to your pool's suction line or skimmer, the Kreepy Krauly saves you hours of manual cleaning by efficiently collecting dirt and debris from every corner of your pool.
A top choice for homeowners seeking an effective yet gentle solution for their vinyl pools – look no further than the Pentair Kreepy Krauly Suction-Side Inground Pool Cleaner!
3. Zodiac MX6 Suction Automatic Pool Vacuum
The Zodiac MX6 Suction Automatic Pool Vacuum is a popular choice among South African pool owners. This powerful suction-side cleaner and suction-cleaning robot works well for both in-ground and above-ground pools.
Its advanced twist-lock hose helps it connect securely, while the X-Drive technology with X-Trax ensures good traction on various pool surfaces like concrete, tile, vinyl, and fiberglass.
One of the advantages of using the Zodiac MX6 is its ability to effectively remove small to medium-sized debris from your pool thanks to its four belt-driven wheels and cyclonic suction system.
While large objects like palm fronds might cause clogging, you can easily access the middle chamber to remove any blockages.
The pool vacuum also performs exceptionally well at climbing walls for a thorough waterline clean due to its articulating turbine blade.
The Zodiac MX6 Suction Automatic Pool Vacuum has proven itself as an efficient tool for keeping pools sparkling clean throughout South Africa.
4. Hayward W900 Wanda The Whale Above Ground Pool Vacuum
Hayward W900 Wanda The Whale is a charming and efficient above-ground pool vacuum that has become popular among South African pool owners.
Designed specifically for above-ground pools, this cleaner connects to the skimmer system and uses a turbine to draw water from the bottom of the pool. As it moves, debris is lifted up through the hose and into your skimmer.
Wanda can effectively clean pools up to 27 feet in length. Its SmartDrive technology ensures proper navigation of the vacuum while maximizing cleaning performance during each session.
Although it doesn't have the wall-climbing capability, Wanda excels at keeping pool bottoms free from dirt and particles.
With easy setup and low maintenance requirements, Hayward W900 Wanda The Whale offers an affordable and fun way for South African families with above-ground pools to enjoy pristine swimming water all season long.
5. Polaris Vac-Sweep 360 Pool Cleaner
The Polaris Vac-Sweep 360 Pool Cleaner is a compact yet mighty option for South African pool owners seeking an efficient pressure-side cleaner.
One of its unique features is the large intake, measuring about two and a quarter inches, which can capture rocks and other debris before they reach your filtration system. The auto-backup function prevents it from getting stuck while cleaning your pool.
Polaris' signature three-wheel track design allows the Vac-Sweep 360 to move smoothly around the pool and up the walls, completing a thorough clean in under three hours. Many users appreciate that this model does not require a booster pump for operation.
The positive reviews on Amazon with an average rating of 4.4 stars out of 5 confirm that the Polaris Vac-Sweep 360 is well-loved by many customers, making it one of South Africa's top choices for in-ground pool cleaners!
6. Paxcess 2021 Automatic Robotic Pool Cleaner
The Paxcess 2021 Automatic Robotic Pool Cleaner is a reliable option for South African pool owners seeking an advanced cleaning solution.
This versatile cleaner can be used for both above-ground and in-ground pools, offering impressive features like a front-mounted scouring brush and an electric motor to direct movement.
One of the standout aspects of this robotic cleaner is its smart programming which lets you set it to clean every hour, two hours, or three hours. Just plug it in and let it work its magic. It even has the ability to climb pool walls for comprehensive cleaning coverage.
While some users have reported minor issues with sponge rollers leaving marks on their pool surfaces, most customers find that the Paxcess 2021 Automatic Robotic Pool Cleaner offers excellent value from a robotic pool cleaner – making it a top choice among South Africa's busy homeowners looking for an effective way to maintain their pools.
7. Pool Blaster Max Li Cordless Pool Cleaner by Water Tech
The Pool Blaster Max Li Cordless Pool Cleaner by Water Tech is perfect for South African pool owners with small above-ground pools, spa pools, or hot tubs. This convenient pool vacuum cleaner features a 10.5-inch head attachment with five wheels and brushes, a multi-layer filter bag, and adjustable suction for versatile cleaning.
The cordless design makes it easy to maneuver around your pool while collecting debris such as leaves, twigs, acorns, and sand. For hard-to-reach spots, you can detach the attachment and use its cone nose instead.
Powered by a rechargeable lithium-ion battery that lasts an hour per charge and takes about four hours to recharge fully, the Max Li offers efficient cleaning without inconvenience.
Attach this compact cleaner to any standard telescopic pool pole to cover larger areas in your pool effortlessly. Now maintaining pristine swimming water is hassle-free for South African families!
8. XtremepowerUS Automatic Suction Vacuum Pool Cleaner
The XtremepowerUS Automatic Suction Vacuum Pool Cleaner is a budget-friendly option for South African pool owners who seek an efficient cleaning solution without breaking the bank.
Priced under R1,800, this simple yet effective cleaner can be connected to your pool's suction line, helping maintain floors and walls of pools up to 16 x 34 feet in size.
Though it may not handle large debris such as leaves very well, the XtremepowerUS cleaner excels at regular maintenance tasks like removing algae, fine debris, and dust. Just ensure you have a minimum of 3/4 horsepower pool pump (or 1600 GPH) for proper performance.
Setting up this affordable pool cleaner might require some time to adjust the hose's length and add stabilizer weights where needed.
Once that's done, the XtremepowerUS Pool Cleaner Vacuum is ready to help keep your swimming area clear and inviting for family fun throughout the season!
9. Pentair 360042 Vinyl Pool Cleaner
The Pentair 360042 is an excellent choice for South African pool owners who have vinyl-surfaced pools. Vinyl surfaces are delicate and require gentle yet effective cleaning to avoid damage.
The lightweight design of the Pentair 360042 ensures that it doesn't cause scratches or tears on your pool walls or floors while performing its cleaning duties.
The pool cleaner's head features a pleated seal, making it perfect for cleaning vinyl pools without risking surface damage. With an automated valve included, the Pentair 360042 avoids getting tangled or snagged through periodic backup motion, ensuring continuous cleaning and no missed spots.
South African homeowners can rely on the Pentair 360042 Vinyl Pool Cleaner to maintain their beautiful swimming area without worries about damaging their precious vinyl surfaces.
This dependable cleaner promises crystal-clear water and worry-free maintenance throughout the season!
10. VINGLI Automatic Pool Cleaner In-Ground Suction-Side Vacuum
The VINGLI Automatic Pool Cleaner In-Ground Suction-Side Vacuum is an efficient and affordable choice for South African pool owners who desire a squeaky-clean swimming area.
This compact pool cleaner has the necessary functions to sweep through different types of pool surfaces while being easy to assemble, operate, and store.
The intelligent cleaning technology of this VINGLI model enables it to remove dirt, hair, sand, and other debris from your pool floor effectively. Extra hoses can be obtained at no additional cost for extended reach. These hoses are scuff-resistant and built to prevent air leaks.
This budget-friendly VINGLI automatic pool cleaner performs on par with more expensive models in terms of maintaining cleanliness in your swimming area.
As it doesn't require any extra equipment, you'll enjoy great value for money without sacrificing performance or quality – making it an ideal choice for maintaining sparkling pools across South Africa!