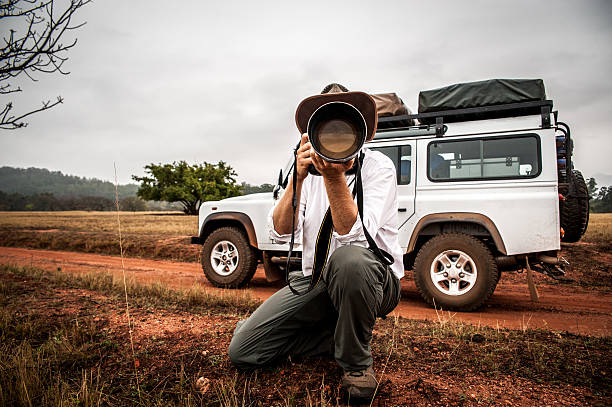 Are you planning a safari adventure soon and looking to capture wildlife through your lens? As a photography enthusiast and an avid safari-goer myself, I understand the importance of having the right camera to capture those memorable moments.
With so many options available in the market, it can be overwhelming to choose the best camera for your safari photography. That's why I've put together this guide to help you select the perfect camera for your safari adventure.
I'll be focusing on cameras with a 6-grade readability level, which means they're easy to use and understand, even for beginners. I'll cover features like zoom, image stabilization, autofocus, and image quality to ensure you get the best shots possible.
We'll also look at the ruggedness of the camera as safaris can be tough on equipment due to dusty conditions and bumpy rides. It's essential to have a camera that can withstand the conditions and not break down during your trip.
With this guide, you'll be able to choose a camera that will help you capture the essence of your safari adventure and create lasting memories. Let's dive in!
1. Leica Q2 Digital Camera
Last year, I decided to explore South Africa and capture its stunning landscapes. The Leica Q2 Digital Camera turned out to be the best choice for my trip.
Its high-end design, fixed prime lens, and compact size made it a great safari companion. With a full-frame 47.3MP sensor, the Q2 took breathtaking pictures without compromising on quality.
The Summilux 28mm f/1.7 ASPH lens allowed me to get wide-angle shots with ease, while built-in Crop Modes let me mimic different focal lengths with just one lens attached!
Not having to change lenses meant my camera kit was more portable than ever before. Other travel-friendly features include DCI and UHD 4K video recording abilities, an impressive 3.68MP OLED electronic viewfinder, as well as dust- and moisture-sealed construction.
2. Ricoh GR III Digital Camera
When I was planning my safari trip, I knew I needed a compact yet powerful camera to capture all those incredible moments. That's when I found the Ricoh GR III Digital Camera, and it was a perfect choice!
This little gem has an impressive 24.2MP APS-C sensor and comes with a fixed 28mm f/2.8 lens. One of my favourite features is the Shake Reduction image stabilization, which helps make sure every shot is crystal clear no matter how wild the adventure gets!
GR III easily fits in my pocket or bag, making it super convenient for any trip – long weekends or multi-week adventures alike. Trust me; this minimalist design and stunning image quality will not disappoint you on your next safari expedition!
3. Nikon Z 7 Mirrorless Digital Camera
During my visit to Kenya, I experienced an amazing safari adventure and the Nikon Z 7 Mirrorless Digital Camera was my go-to gear. This camera is perfect when you need a versatile system for capturing stunning wildlife shots without carrying too much weight around.
It's a full-frame mirrorless camera with exceptional imaging capabilities, so every picture captures the true essence of Africa's majestic animals. Changing lenses on this camera is also hassle-free, which allows you to bring along multiple lens options depending on your needs.
Its compact design ensures that it fits easily into any travel bag, making it an ideal companion for memorable safari experiences. Every time I look back at the images captured with Nikon Z 7, I can relive those magical moments spent in the African wilderness!
4. FUJIFILM X-T30 Mirrorless Digital Camera
On one of my trips to South Africa back in 2018, I had the opportunity to take the FUJIFILM X-T30 Mirrorless Digital Camera on a thrilling safari excursion.
This camera is like the younger sibling of the X-T3 – it's smaller but still offers outstanding photo and video capabilities for all your travel photography needs. Its compact size makes it perfect for anyone who wants to travel light without compromising on image quality.
I was truly impressed with how this camera handled different lighting conditions as I snapped pictures of lions basking in the sun and elephants grazing during sunset.
The high-resolution 26.1MP X-Trans CMOS 4 sensor paired with its X-Processor delivered incredible images that brought back memories long after my trip ended.
Thanks to its user-friendly interface, I could easily capture every memorable moment of my African adventure with confidence using FUJIFILM's X-T30 Mirrorless Digital Camera!
5. Sony Alpha a6400 Mirrorless Digital Camera
Exploring the beautiful landscapes and wildlife of Botswana, I had the Sony Alpha a6400 Mirrorless Digital Camera as my trusted companion. This sleek APS-C-format camera is packed with remarkable still and video features, yet its compact design made it easy to carry on my safari adventure.
The 24.2MP sensor allowed me to capture sharp images of elephants bathing in the Chobe River and lions lounging under acacia trees. With its stunning UHD 4K video capabilities, I also managed to record immersive footage of memorable moments throughout my journey.
One feature that stood out for me was the 180-degree tilting touchscreen perfect for vlogging or taking selfies with Africa's gorgeous backdrop. The lightning-fast autofocus ensured all my subjects were perfectly focused despite their unpredictable movements.
Thanks to the Sony Alpha a6400 Mirrorless Digital Camera, I now have vivid memories captured from my captivating safari experience in Botswana!
6. Panasonic Lumix DC-LX100 II Digital Camera
While travelling through the breathtaking landscapes of Uganda, I was fortunate enough to have the Panasonic Lumix DC-LX100 II Digital Camera as my trusty companion.
This premium point-and-shoot camera was perfect for capturing the beauty of my African safari adventure with ease and precision.
One key feature that sets this camera apart is its 17MP Four Thirds sensor, which delivered remarkable image quality and a high degree of sensitivity in various lighting conditions.
The versatile 24-75mm equivalent zoom lens came in handy when framing distant wildlife or focusing on nearby details while maintaining excellent sharpness throughout.
To make things even better, the built-in viewfinder allowed me to compose shots easily under the bright sunlight – an essential aspect of any safari trip.
Armed with the Panasonic Lumix DC-LX100 II Digital Camera, I returned home with stunning images from the heart of Uganda that will always remind me of those cherished moments spent amidst Africa's incredible wildlife.
7. Panasonic Lumix DC-G95 Mirrorless Digital Camera
During my unforgettable trip to the captivating landscapes of Rwanda, I had the Panasonic Lumix DC-G95 Mirrorless Digital Camera by my side, capturing all those remarkable moments in high detail.
This versatile camera is a perfect blend of performance and portability that made it an ideal choice for my African safari experience.
As a Micro Four Thirds camera, the G95 provided me access to a wide range of lenses suitable for various travel needs while maintaining its compact size.
The 20.3MP sensor paired with Venus Engine image processor delivered exceptional UHD 4K video quality and stunning still images—even in low-light situations—as we tracked gorillas through dense forests.
The built-in 5-axis image stabilization ensured sharp and blur-free shots despite shaky hands or bumpy rides on rough terrains. To top it off, the G95 features a high-resolution electronic viewfinder alongside a swiveling touchscreen LCD, providing convenience while composing shots in different lighting conditions.
8. FUJIFILM GFX 50R Medium Format Mirrorless Camera
During my unforgettable trip to Namibia, I had the opportunity to try out the FUJIFILM GFX 50R Medium Format Mirrorless Camera. Although its size and weight are a bit more than your average travel camera, its stunning image quality made it worth bringing along on my African safari.
Capturing landscapes, wildlife, and scenic vistas with this camera felt truly immersive due to its medium format sensor which is about 1.5x larger than full-frame sensors.
This allowed me to capture images filled with rich details and exceptional colours, making every shot feel as vivid as the real-life scenes before me.
The slim rangefinder-inspired design made handling easy during long days of exploring Namibia's diverse terrain. The top-grade image quality from the GFX 50R easily surpassed smaller cameras in capturing Africa's awe-inspiring beauty.
Carrying the FUJIFILM GFX 50R Medium Format Mirrorless Camera has definitely elevated my photography game for special trips like these – it's an ideal choice for those aiming to achieve unparalleled image quality during their adventures in magical places like Africa!
9. Canon EOS Rebel SL3 DSLR Camera
During an adventure-packed safari in Zambia, I relied on my trusty Canon EOS Rebel SL3 DSLR Camera to capture the magical moments unfolding before me. Although mirrorless cameras have gained popularity, there's something undeniably satisfying about having a reliable and compact DSLR for travel photography.
The 24.1MP APS-C sensor delivered impressive image quality while its UHD 4K video capabilities enabled me to record every captivating scene with clarity. An optical viewfinder made it easy to frame shots under harsh sunlight—a common challenge during African safaris.
One of the standout features of this camera is its remarkable battery life, offering over 1,600 shots per charge. This allowed me to focus on capturing one-of-a-kind memories without worrying about running out of power midway through a day filled with incredible wildlife sightings and stunning landscapes.
Thanks to my Canon EOS Rebel SL3 DSLR Camera, I returned from Zambia with breathtaking images that truly encapsulate the allure and excitement of exploring Africa's wild side!
10. Nikon D5600 DSLR Camera
My journey to majestic Zimbabwe was made even more unforgettable by the Nikon D5600 DSLR Camera. This compact and sleek camera is loaded with advanced features that make it perfect for capturing every moment of an African safari adventure.
The 24.2MP DX-format sensor allowed me to take stunning high-resolution images of leopards stalking their prey and hippos lounging in the water, while its Full HD video capability let me record dramatic scenes throughout my travels. The large 3.2″ rear touchscreen LCD made live view shooting and image playback a breeze.
Being able to effortlessly connect this camera via SnapBridge Bluetooth and Wi-Fi enabled quick sharing of my incredible experiences with friends and family back home. With great battery life, I never had to worry about missing any once-in-a-lifetime shots due to a depleted battery.
Reflecting on my time spent admiring Zimbabwe's breathtaking wildlife, I am truly grateful for having the Nikon D5600 DSLR Camera as my reliable companion in seizing those cherished memories!
11. Canon PowerShot G1 X Mark III Digital Camera
Traveling across the enchanting landscapes of Ethiopia, I found the Canon PowerShot G1 X Mark III Digital Camera to be an indispensable companion for my safari photography. This advanced compact camera is packed with excellent features that brought my African adventure to life in stunning detail.
Its 24.2MP APS-C sensor produced high-quality images, and the inclusion of a 2.36m-dot electronic viewfinder allowed me to easily compose shots even under the bright sunlight—an essential feature for outdoor trips like safaris. The versatile 24-72mm equivalent zoom lens proved invaluable when capturing close-ups of fascinating wildlife or sweeping vistas of Ethiopia's breathtaking scenery.
What amazed me about this camera was its Dual Pixel CMOS AF system, which made focusing effortless and precise—perfect for recording videos amidst Africa's rapidly changing landscape.
Thanks to the Canon PowerShot G1 X Mark III Digital Camera, I returned from Ethiopia armed with outstanding images and unforgettable memories that will forever remind me of my incredible journey through this unique part of Africa!
12. Sony Cyber-shot DSC-RX100 VI
My adventure through the spectacular landscapes of Mozambique was made truly memorable with the help of my Sony Cyber-shot DSC-RX100 VI. This compact camera put premium features in the palm of my hand, making it an excellent choice for safari photography.
Notably, this sixth-generation RX100 model boasts a generous 24-200mm equivalent zoom range that allowed me to capture everything from wide-angle shots of expansive horizons to close-up portraits of unique wildlife.
Its impressive 20.1MP 1″ sensor and UHD 4K video capabilities ensured that each photograph and recording I took showcased vibrant colors, crisp details, and amazing depth.
The built-in pop-up viewfinder design made shooting in bright sunlight easy while its pocketable size meant I could carry it everywhere without feeling weighed down by bulky equipment on my African journey.
Reflecting on my extraordinary experiences in Mozambique, I'm grateful for having chosen the Sony Cyber-shot DSC-RX100 VI as the perfect pocket-sized companion to capture every stunning moment during my unforgettable safari adventure!